Triphala Powder is most popular remedy used in ayurveda. In ayurveda, it's believed that the right use of Triphala churna can cure all diseases. Benefits of Triphala Churna dosent end here.
The world has evolved and changed. Indian Ayurveda have stood the test of time. People are more interested in finding out healthy foods. Day to day they're becoming extra conscious about wellness. Today, using kitchen herbs, spices, and kitchen herbs for treatment is becoming an increasingly attractive option. One of the many home remedies recommended by Ayurveda.
Triphala is the most popular remedy used in the Indian traditional medicine system of Ayurveda. Triphala powder is beneficial in treating a number of issues weight loss to diabetes. In ayurveda, it's believed that the proper use of Triphala churna will cure all diseases, as well as diabetes, hypertension, and even cancer. Well, the advantages of triphala churna doesn't finish here. Keep reading to know more!
What is Triphala Churna?
So, what is exactly Triphla Churna. Triphala is a combination of two Sanskrit words Tri and Phala. 'Tri' means three and 'Phala' means fruits.. When we combine the tri and phala, you get three fruits and this is what triphala powder is. It is a combination of the three best known fruits for health.The Sanskrit word churna stands for powder. These three fruits and their individual benefits are discussed below.
Triphala Churna Ingredients
Triphala is composed of the following three fruits.
Amla. It is also called Indian gooseberry.
Baheda, called vibhidaka in Sanskrit. also know as bedda.
Harad, called haritaki in Sanskrit.
These three fruits are dried and reduced to powder kind and used for various health benefits. All these three plants are known to have individual medicinal values and are used separately for various health and beauty issues. However, when combined together, these three form the most potent medicine that can provide benefits ranging from stimulating digestive health to delaying the aging process.
Health Benefits Of Triphala Churna
This potent medicine is often used by people in India as a laxative. It stimulates the digestive system and is a mild bowel cleanser. While you can use it as a gentle laxative once in a while, you may also consider using it as a detoxifying agent on a regular basis. Its mild nature makes it quite safe to use on a daily basis without any side-effects.
Let's take a look at the three fruits separately to get a more detailed idea of the health benefits of triphala churna.
Amla
Also known as Indian gooseberry, Amla or Amlaki is the first ingredient of this healthy detoxifier.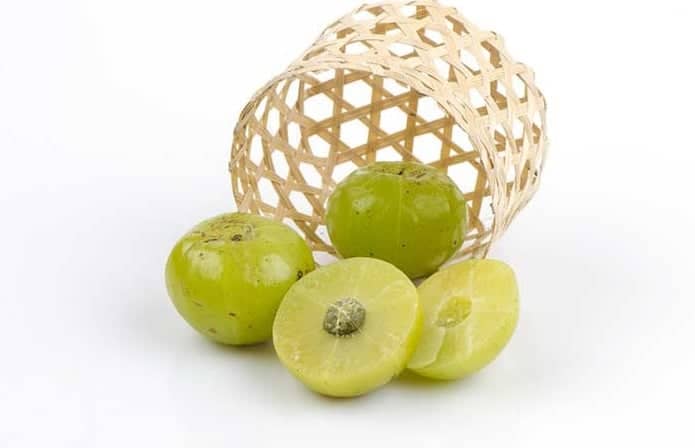 Here are some benefits of Amla:
It is rich in vitamin C. About 100 grams of amla contains 700 mg of vitamin C
A powerful immune-booster and a wonderful antioxidant fruit
Improves the absorption of food by improving your digestion
Its rich vitamin C content enhances the absorption of iron into your blood and this is why is excellent for those with anemia
It strengthens and stimulates the liver and gall bladder, thus, detoxifying your body
Amla strengthens and purifies your reproductive health and is considered to be excellent at regulating menstrual cycles
It purifies your urinary system
Clears mucus from your lungs and respiratory tract
Supports the cardiovascular system
Improves the functioning of your brain
Since it improves the absorption of various minerals, it will give you beautiful skin and hair and healthy nails and teeth
It is also beneficial for the eyes and will prevent them from various diseases
Haritaki (Harad)
Here are the benefits of the second ingredient of triphala known as haritaki or harad: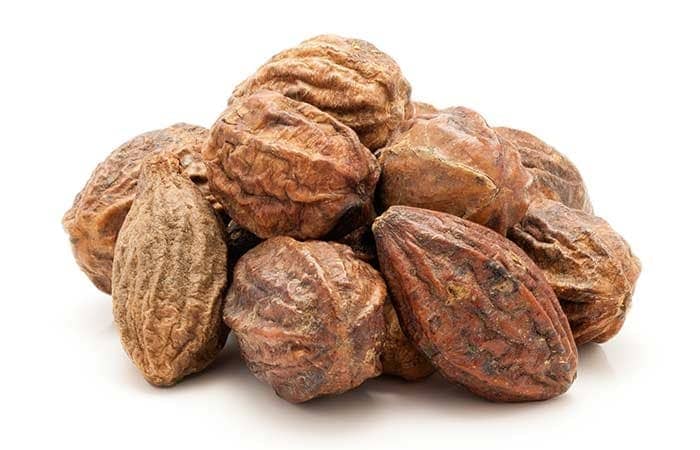 Here are some benefits of Harad:
Excellent for the eyes and is believed to prevent diseases such as cataract and glaucoma
Promotes healing and this is why it can heal a wound or ulcer
Good for any type of skin disease
Good for the spleen and liver
Enhances mental clarity and memory
Has anti-aging qualities
Boosts the immune system
Bibhitaki ( Baheda)
The third ingredient of triphala churna is Bibhitaki. Here are the benefits of this herb known as baheda in Hindi: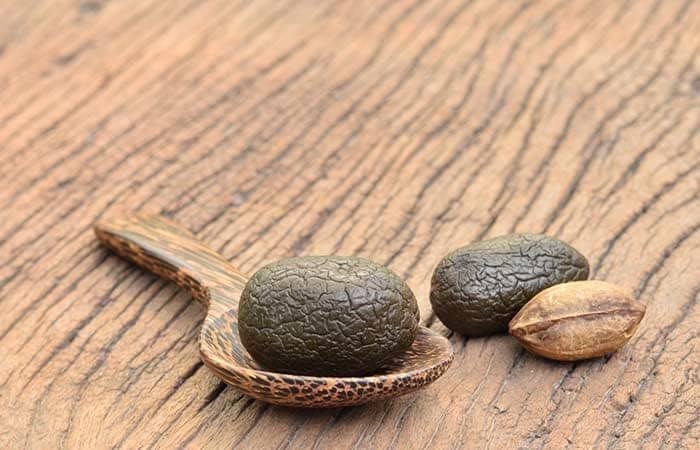 Here are some benefits of Baheda:
Excellent blood purifier
Removes excess fat from the body along with harmful toxins
Improves eyesight
Strengthens the roots of the hair, prevents hair thinning and premature graying of hair
Possesses antiviral and antibacterial qualities
As you can see, the three ingredients when combined together form a potent medicine that can provide you with excellent health benefits along with protection from various diseases. Triphala churna usually contains four parts of amla, two parts of Bibhitaki, and one part of Haritaki. However, this ratio can vary depending on the product and the needs of the individual.
Regular intake of this ayurvedic product cleanses your colon. This ratio of the three ingredients is believed to make it an excellent weight loss product. Triphala churna is good for the lungs and this is why it reduces the symptoms of asthma.
Its anti-inflammatory and healing properties are quite useful in treating chronic ulcers and inflammatory conditions such as arthritis. The immune-boosting properties of triphala powder offer protection against infectious diseases.
The antioxidant properties of this wonderful herb combination prevent aging and offer protection against various diseases including cancer.
Don't forget that it is excellent for your eyes. Its detoxifying properties will give you healthy and glowing skin and shiny and beautiful hair as well.
How to Use Triphala Powder
You can take triphala in powder form. However, it does have a strong taste and some people may find it hard to gulp it down. You may want it to combine it with a little bit of juice or honey if you think that you can just not handle its taste. Ttriphala is also available in capsule form these days. You can give these a try as well.
Generally, the recommended dosage for triphala is one teaspoon or one capsule taken with lukewarm water before going to bed. Make sure to keep a gap of about 2 hours after dinner. This is a safe dose to take with no side-effects.