There may be various reason that you don't want to appear online on WhatsApp for some time period. But, you also want to reply or want to send a message to your contact. If so, let it be known to you that there are 2 main ways. You can easily send a message to anyone on WhatsApp without changing Last Seen status. There is two main ways to hide your visibility.
#1. Using Google App
We already know that Google Now offers Google voice search on Android Smartphones and other Google Devices. 'OK Google' is the command to activate the Google Voice Search. If you want to search anything over the internet or want to make a call, text a message etc. this will work over your voice commands.
To use this for sending a message on WhatsApp, follow the step by step guide given below
Step 1: On your Android mobile find and open Google App or Just activate 'Google Now' by voice command.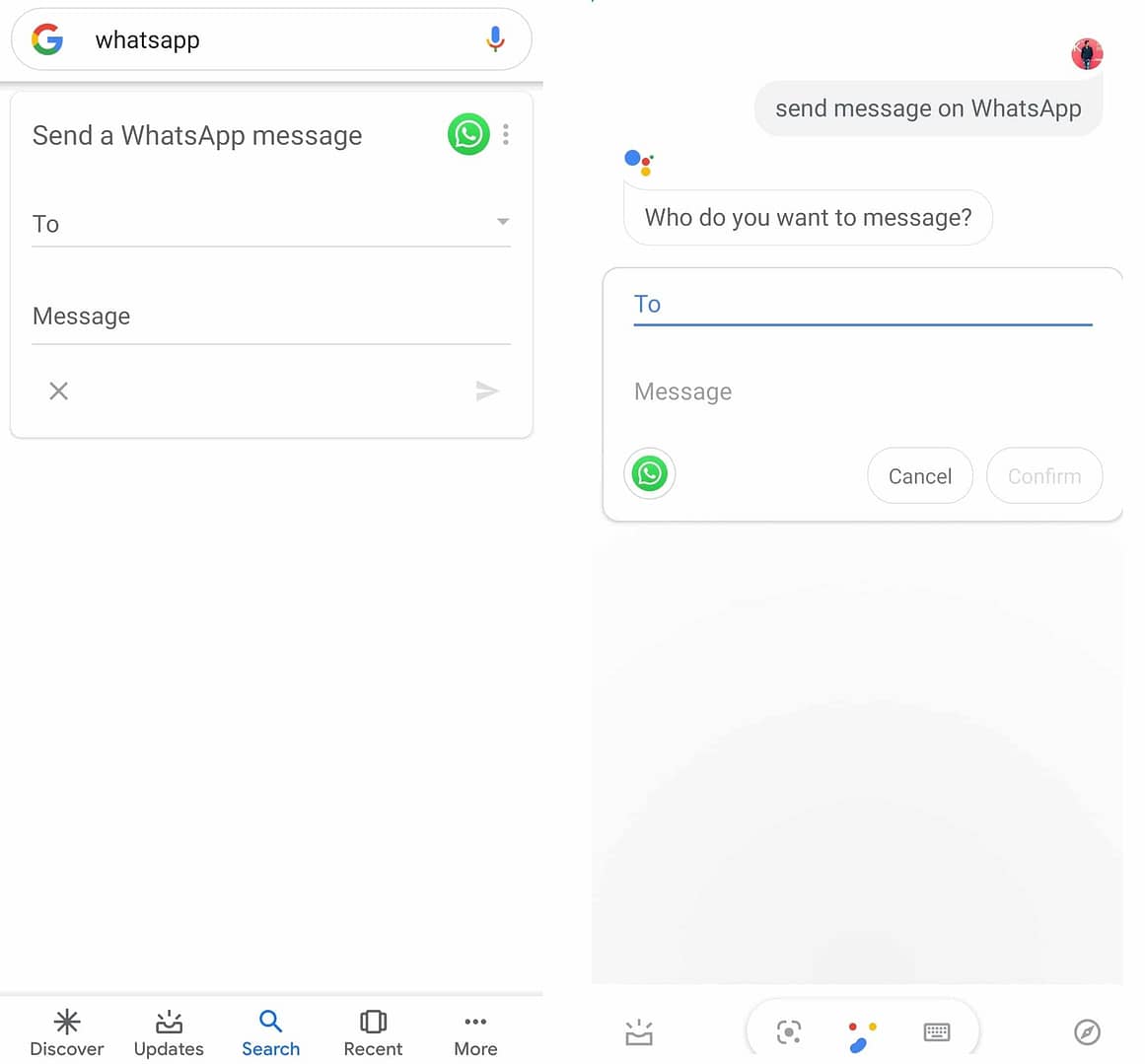 Step 2: You can type 'WhatsApp' on search bar if you open the google app or If you activated  'Google Now' then just say: "Send Message on WhatsApp". It will process and ask you "Who do you want to message?"
Step 3: Now, just take a 'WhatsApp Contact Name'. It will process and show you that particular contact.
Step 4: Google now will ask 'What's the message' do you want to send. Just record it or you can manually enter the message.
Step 5: Just say "Send this" or manually tap on 'Send' icon.
You have successfully sent a message on WhatsApp without opening it and changing last seen status.
#2. Send Message using Whatsapp App
What if you want to reply on specific conversation. Then this method will help you. You can also send new message to any contact using this method. Follow the following steps to enable that to happen:
Disable your Wi-Fi, mobile network, or any other internet connection on your smartphone. You can also do it by turning Airplane Mode on.
Open the WhatsApp conversation that you are interested in responding to.
Write the message
Tap on send
Close WhatsApp (Also in background app)
Reactivate Wi-Fi or mobile network internet connectivity or by turning airplane mode off in case you have activated it.
WhatsApp will automatically send your replies without indicating that you were online. This way, it will retain your previous 'last seen' status rather than the current one.
So now you can easily reply to any message on WhatsApp without changing in the Last Seen status. Don't forget to share your experience in the comment section below.